As winter ice fishing progresses some tactics have to be changed. Early in the season the action is fast and as the ice gets thicker and the days colder the fish have a tendency to slow down and move. In fact, in most bodies of water mobility is crucial if you want to stay on fish.
When looking for a productive perch lake, I usually look for a lake that is large. It seems that in order to grow the jumbo perch you need a lot of water. For example, Mille Lacs Lake, or Leech Lake in Central Minnesota is perfect for these dandy jumbo perch. Also lakes like Devils Lake in North Dakota are great because the large lakes are not subject to fishing pressure and anglers will not really hurt this prolific fish. These fish are so prolific that on a normal large lake anglers probably won't make a dent in their population.
Never spend too much time in one place. When it requires some effort to make a move sometimes it's just easier to sit and wait for the fish to come to you. With all the innovations in ice-fishing gear, making anglers more versatile and more mobile, it makes sense to have an attitude that will have you moving, searching for active fish. From first ice to last ice you won't see me in one spot for very long. If I am not pulling my Scout XL by hand covering the ice you will find me on my Arctic Cat Bearcat snowmobile. In fact, my Bearcat has a mounted Clam Drill 6" auger, rods, my Mr. Heater, tackle and a Lawrence HDS with a Navionics chip. Don't forget about safety. I also have a Nebulus attached to my sled, with a throwable boat cushion and 50' of rope. For added protection I wear a life jacket when I am mobile.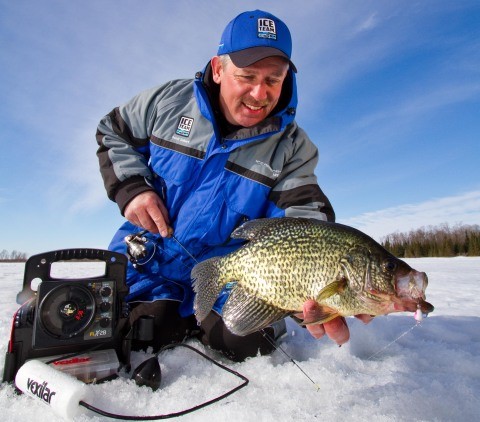 The key to ice fishing as it is in any fishing is location. This is where my Lowrance HDS and my Navionics really help me find specific structure. For perch and other game fish, try long tapering points; inside channel turns; rock humps, neck downs, and structure near spring spawning areas. Use the sonar to spot fish. Try submerged brush piles and blow downs for crappie and bluegill. Watch the screen or flasher. You can actually see fish appear on a graph. Sensitive sonars track your lure so you can put it right in the fish's face. I have seen a mark appear on the sonar screen while reeling in a lure. A pause and the mark moved closer to the bait. A twitch of the wrist brought a powerful strike. A heart-racing fight put a nice jumbo perch on the ice.
Effective scouting may require drilling a lot of holes. If you fish a weedline early in the year it might take several holes to find the right area the fish are in, and of course they move along the weedline so it is important to stay with the fish as they cruise the shallows in search of food.
Last year my fishing partner, Shelly and I, fished off my Bearcat snowmobile. In order to cover more ice and to stay mobile on the ice we drilled holes on both sides of the sled and covered the structure.
What I try to do is to drill a series of holes along a particular structure. I will start shallow and drill a couple of holes about six feet apart. Then I will move along the breakline of this structure until I reach a depth of about 22 feet or so. Depending on the weather I usually like to start in the shallow areas to see what type of activity is there first. Then I move along my series of holes until I reach a productive hole and the active depth.
Jigging is the most deadly method of all, if done properly. Proper size, color selection and action all come into play. I like to using a Clam Red Glow Drop Kick jig and the Drop Jig. I will tip one with Maki Mino (white) plastic and the other one with maggots. Stay light with your line. I prefer to use 2 or 3 pound test Berkley Trilene Micro Ice when targeting bluegills and crappies. My rods of choice are Ice Team 26" light action bluegill rod and if they are finicky I will step down to the Ice Team 25" spring bobber rod.
Your lure selection might also have to change. The style and shape of the Clam Speed Spoons and the Rattlin Blade Spoon allows it to flutter as it falls. This will simulate a wounded minnow and turn those inactive fish into active ones.
Another type of lure that suspends the rate of fall is the Salmo Chubby Darter. These types of lures have a swimming action and they dart as they fall. This will give the fish an impression that minnows are darting and swimming towards them and escaping from them and it will trigger a response from those finicky walleyes.
Remember to be conscience of the size of your bait. The old adage that the "larger the bait, the larger the fish," will hold true, but if the fish turn off, try a smaller size and you might be surprised.
In order to be mobile your equipment and your approach to ice fishing has to be constantly changing to search for active fish. Safety should not be taken lightly, it should be an intricate part of your mobile plan. Keep moving and locating fish and you will find that mobility does pay off when you are on the ice this year.