Yellow perch and walleyes are two of ice anglers' most popular targets, and there's no reason you can't double your pleasure and catch both species in one trip.
Aiding such endeavors, Ice Team Pro and veteran guide Scott Seibert has crafted a "one-two punch" approach that makes it easy to enjoy fine fishing for jumbo perch and golden-flanked 'eyes.
"It starts by choosing lakes that offer good populations of both species," he says, noting that Leech, WInnibigoshish, Mille Lacs, Devils, Gogebic and Waubay rank high on his Upper Midwest hit list. "I look for large lakes that have plenty of big perch along with solid walleye fisheries."
Such sprawling systems are typically better picks than smaller bass-panfish type lakes, which offer low walleye numbers, limited structural opportunities and scads of stunted perch.
"You usually don't see a lot of 10- to 12-inch perch where there's intense competition for food or high mortality rates from predators such as northern pike," he explains. "Big lakes that offer perch enough time, elbow room and food to reach jumbo proportions are your best bets."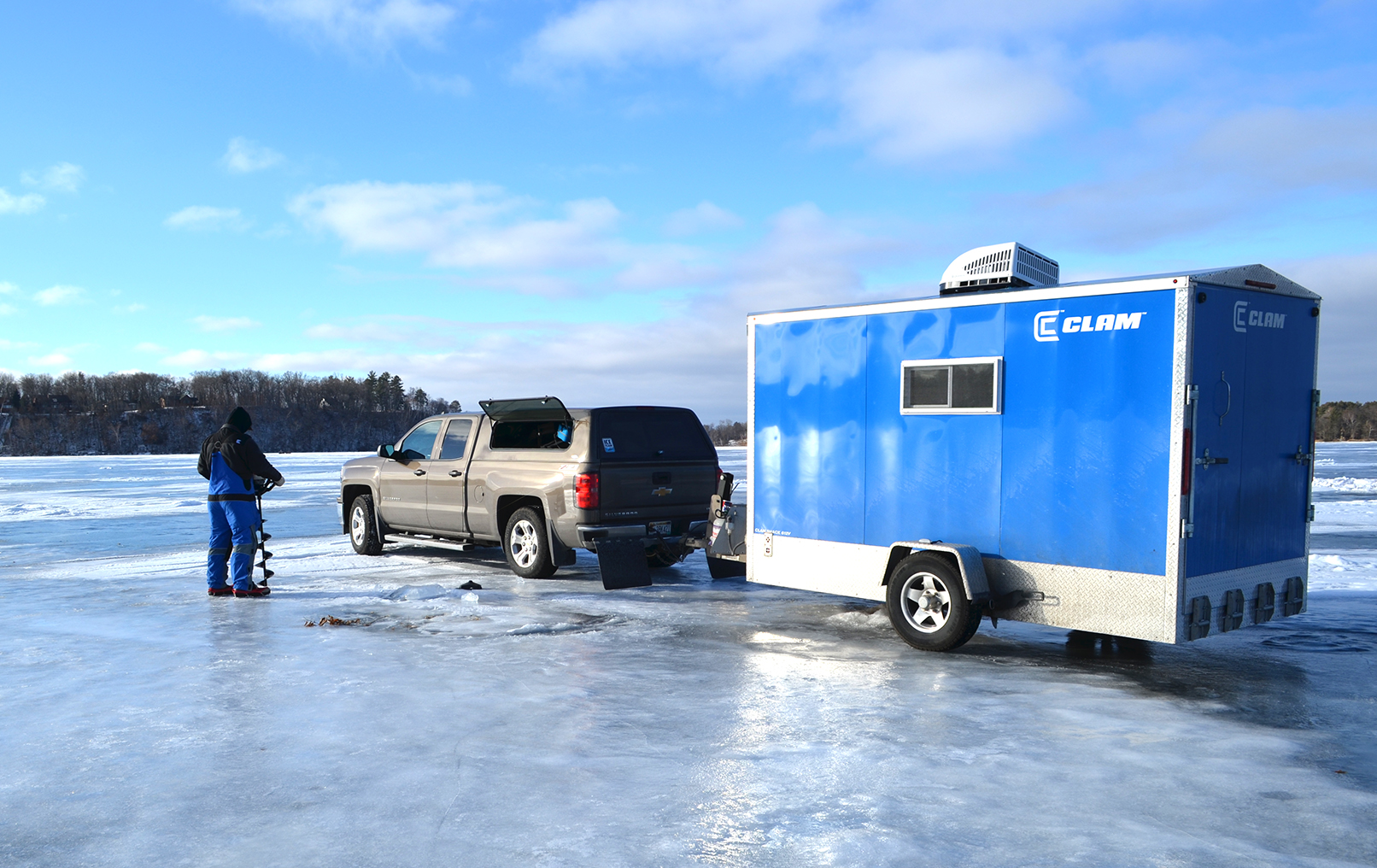 Certainly, flowages and river systems such as the Mississippi River near Grand Rapids can be sleepers, as can shallow, fertile fisheries where perch wax fat, fast, particularly where the population is on the rebound from a winterkill. In such waters, biologists note that perch can reach 12 inches in length in just five growing seasons—much less time than it takes in most classic northern perch waters.
After selecting a destination, Seibert scans a good hydrographic map of the lake for prime perch and walleye habitat. "They're generally not in the same area," he says. "I look for perch in deep mid-lake structure such as holes and mud flats. Transitions between soft and hard bottoms can be dynamite, but you have to scout around to find the fish."
Seibert's perch searches entail punching numerous pilot holes and looking for fish on sonar, then dropping fish-attracting lures like a Clam Speed Spoon tipped with a minnow head. "A Speed Spoon drops quickly and creates a lot of flash and commotion, which can tell me if hungry jumbos are roaming the neighborhood," he says.
Once perch are pegged, Seibert siphons up the most active fish with the spoon, then switches to a tungsten Clam Drop XL jig tipped with a Maki plastic and trio of maggots to milk the most fish from the area before moving on. He notes that his favorite colors are gold and glow red.
"Perch often respond to a bottom-pounding presentation," he says. "So don't be shy about dropping your spoon or jig and stir up sediment to imitate a bug coming out of the mud. If you see fish move in on your Vexilar sonar but they don't bite, raise the jig to pull the biggest fish up and out of the school. In fact, fishing two to three feet off bottom after kicking up a little dust tends to produce the biggest perch."
Seibert also advocates a mobile mentality. "Keep moving," he says. "Drill lots of holes in promising areas, and don't spend too much time in one spot."
Seibert typically targets perch during the day, then shifts his focus to walleyes for the evening bite. "In the afternoon I look for areas where walleyes move up to feed at twilight," he says. "Gravel bars and rock piles adjacent to deeper water are two of my favorite spots."
Seibert often works Clam's Rattling' Blade Spoons tipped with a minnow head in one hole and deadsticks a Blade jig tipped with a shiner, suspended under a 5-inch Ice Buster Bobber, in another. "The rattling brings them in and the dead stick is the one they bite sometimes," he says. "Small crankbaits like a size 5 Bagley Balsa Shad rigged with a Clam Crank Weight are also worth a shot, especially for big walleyes."
Seibert experiments with a variety of jig strokes, building on a basic lift-fall-hold routine by adding twitches, shimmies, bottom pounds and other maneuvers to the mix until the walleyes let him know he's got the right cadence for the conditions at hand.
He notes that the right rods can make a huge difference in your catch rates. Go-to perch sticks include a soft-tipped, 24-inch Jason Mitchell Meat Stick for finesse and dead-stick applications, a light-action, 26-inch Clam Legacy for jigs and a medium-light version of the same rod for spoons.
"For walleyes, I favor a 32-inch, medium-heavy Clam Dave Genz Split Handle Ice Rod for crankbaits, a 28-inch medium Clam Legacy for spoons," he says. When fishing spoons, he adds a swivel 24 inches above the lure to limit line twist.
All rods are strung with Berkley Micro Ice line: 3-pound-test for perch, 6-pound for walleyes.
Armed with the right gear and strategies, Seibert says you can enjoy banner days double-dipping portly perch and tasty walleyes from first ice all the way to season's end.