Year after year I am amazed at how improvements to lures, shelters, electronics and technology have made my time on the ice more efficient, more effective and more comfortable. These improvements have allowed me to spend my time maximizing opportunities while on a body of water. With many of the changes that I see each year, the one thing that hasn't changed for me in the past 14 years is my main heat source. Since the Mr. Heater Big Buddy Heater came out in 2004, it has been a reliable constant for my spring, fall and winter outings. I prefer the big buddy because while on the ice I am typically fishing from a large 2 or 3 person Clam portable fishhouse. The Big Buddy heats it up quickly and efficiently. Whether on a trip with friends, a solo outing, or a trip with kids I have confidence in the reliablity of my Big Buddy heaters.
As an outdoor educator and promoter I feel confident when a group of my anglers are heading out with their Big Buddy on a winter day knowing they will stay warm and will have a safe and constant heat source. Maybe even more importantly is, as a father with two young children who love to fish and who are becoming more and more self sufficient, I apprciate the extra safety of the Accidental tip-over safety shut-off and the Automatic low oxygen shut-off system of the big buddy, when they are in a fish house on their own.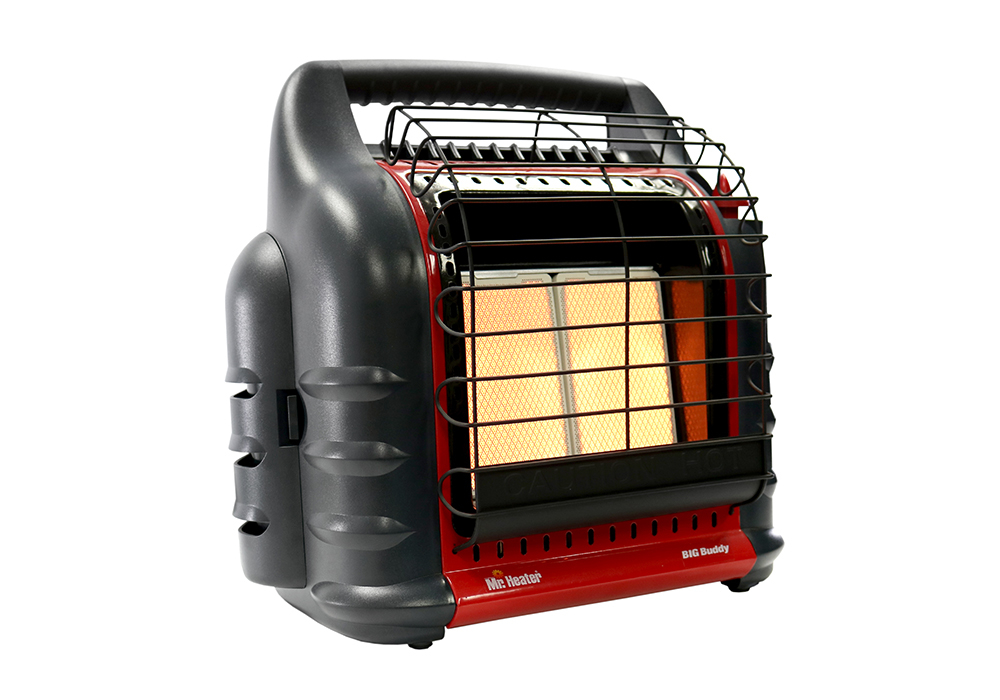 I usually prefer to use the 1lb liquid propane cylindars rather than using a larger tank. It simply comes down to the portablity and weight advantages of using the smaller tanks. On very cold mornings I've used the radiant heat of my Big Buddy to warm up a stubborn ATV or snowmobile battery on a trailer. I've used them for keeping my hands warmed while strapping and unstrapping gear before and after a day on the hard water and sometimes putting a sandwich in tin foil in front of my big buddy will let me have a "warmed up" lunch.
During early spring and late fall fishing trips both in the boat and from shore, my Big Buddy will often times accompany me. It can be the perfect solution for warming up cold hands after landing fish, and offers a perfect "glow" to help me see what I'm doing when casting from shore at night.
Over the years there have been some adjustments and minor changes to the line of Buddy Heaters but the fact that they just plain work year after year is the reason why I will continue to rely on them when I am on the ice. From the new golf cart heater to the little buddy there are different styles to suit the type of need you may have. For me, the Big Buddy does everything that I need it to help me be a successful angler.