A little over 18 months ago I departed Phoenix, Arizona for a yearlong solo journey through all 50 states and Canada by motorbike. Part of this adventure would be my record breaking attempt in the lower 48 states for "Longest Journey by Motorcycle in Single Country." It took a little over 12 weeks, after my return home and record submittal, to find out that at 34 years old; I am a Guinness World Record holder, and the first solo-female rider to ever hold this record!
Armed with tank full of fuel and a case of Rand McNally maps I was ready to take on the back roads and scenic routes across the North America. Amelia-my 2006 Triumph Bonneville- was loaded! All my belonging for a year were packed into waterproof GiantLoop luggage, my home – a tent was strapped to the back…left leg in and now the right as I zipped on my REV'IT suit I exhaled – it was time!
I did not know my exact route as I departed, but I had personal goals I wanted to achieve and parks I wanted to see. One of those goals was to camp / to set up tent in every state – box checked! Much of my route was guided by visiting National Parks, both in the US and in Canada. I grew up camping at many of these as a child and it was wonderful to experience them again some 15 or 20 years later, as an adult and by motorbike. I enjoyed all types of camp life on the road – from my Lone-Rider Moto-Tent (my main house) to Yurts in Pennsylvania and Colorado, and KOA Kamp Kabins (graciously donated to me in a handful of states along the journey). From State Parks to wild camping, to privately owned sites, all had different appeals and experiences.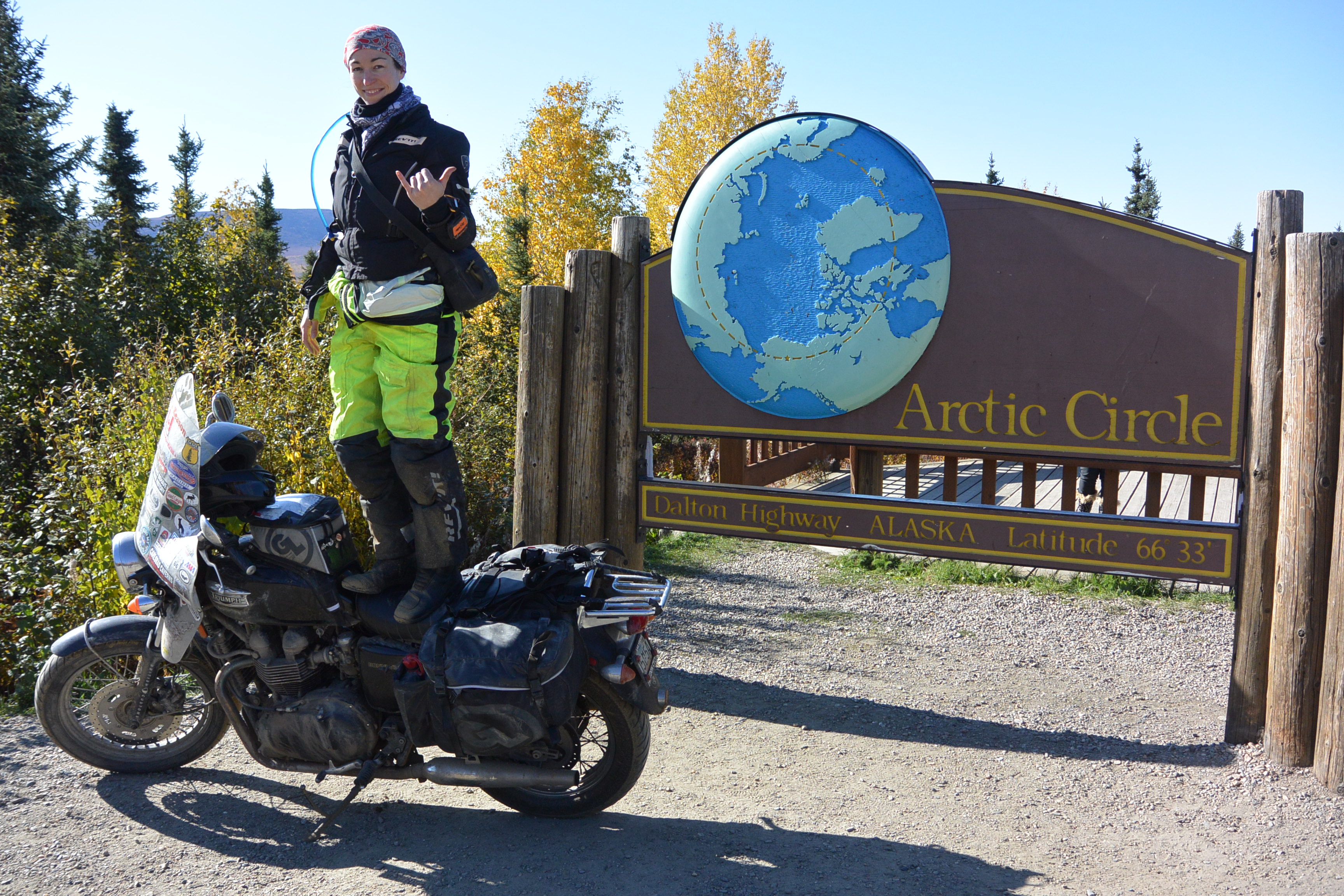 Everyone I met along the road was kind, some stand out more than others…like the couples that provided me breakfast at campsites, or gave me extra fire wood. And then there are the "gas-station" gentlemen that would always venture in close with admiration as they thought I was riding a vintage Triumph, like the ones they used to ride. These gentlemen were usually in their 60's or 70's, and we would chat about bikes and adventure, and one even gave me a couple bucks to have a coffee on him, this after I removed my helmet and he gasp…"you're a woman!" I just laughed and said, "yep!" We talked of travel, weather and the beauty of taking life on – full-throttle, living out adventure!
This was a solo journey but at times I did plan rides with others along the way. Some planned weeks in advance and some by happenstance. But all were cherished. I rode through Colorado, New Mexico and Arizona with my mom and dad, I rode many eastern states and deals gap with my uncle, I rode with new friends and motorcycle groups I met along the way. I enjoyed the community rides as there is a creative flow when surrounded by others who get the spirit of flight without leaving the ground…but I did cherish the times I rode alone (which I did for over 80% of my trip). I have traveled solo throughout the world and part of this experience was challenging myself and taking the time each day to just be alone with my thoughts and the silence of nature (or the loudness depending on where I ventured, like falling asleep to the insects in the south and waking up to birds in the north).
My wheels have stopped turning or have they just begun. The journey of 1 year on a Triumph Bonneville to all 50 states and Canada has come to a close. My Amelia's wheels have momentarily paused, metaphorically I feel ignited and on fire with recollections of this magnificent adventure, an adventure set fully in my backyard.
Five years ago if you would have said to me that I would be undertaking such a journey, and attempting to break a Guinness World Record – I would have probably just smiled politely back at you! But today if you would have said, "did you ever think you would not make it?" I would answer, "There was not a doubt!" As my year began to come to a close and the seasons in Alaska and Canada began to drift into the ski and hot cocoa lifestyle, I rode on. I knew that I would make my goal– so yes there were long days, (I even made it into the world of the Iron Butters with the Sore Saddle and Bun Burner rides – completing 1500 miles in 36 hours). I was on an epic journey and I needed to be sure to make Alaska before the season changed so why not – with over 48000 miles under my belt at that time I had to have an Iron Butt or two, or three, right?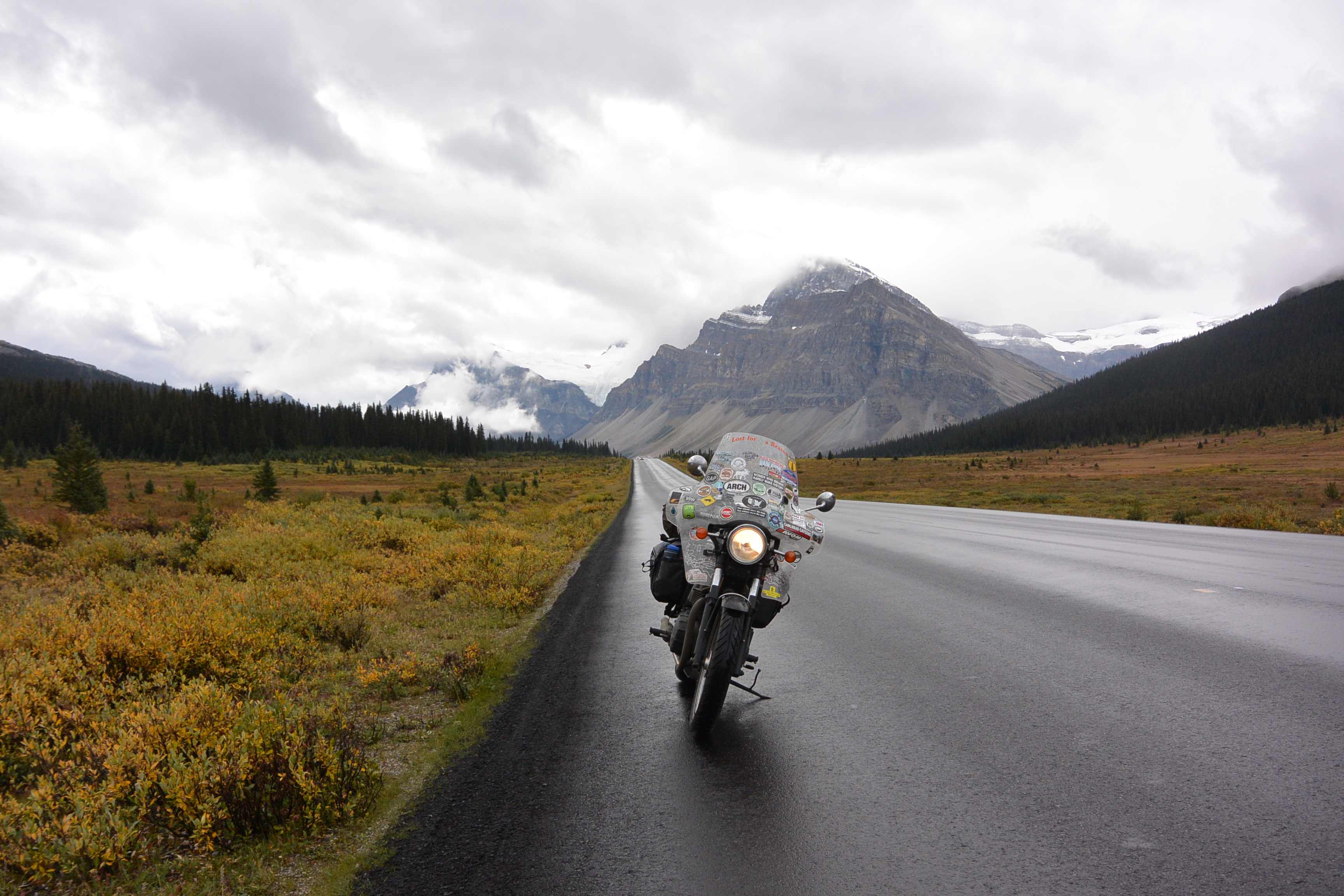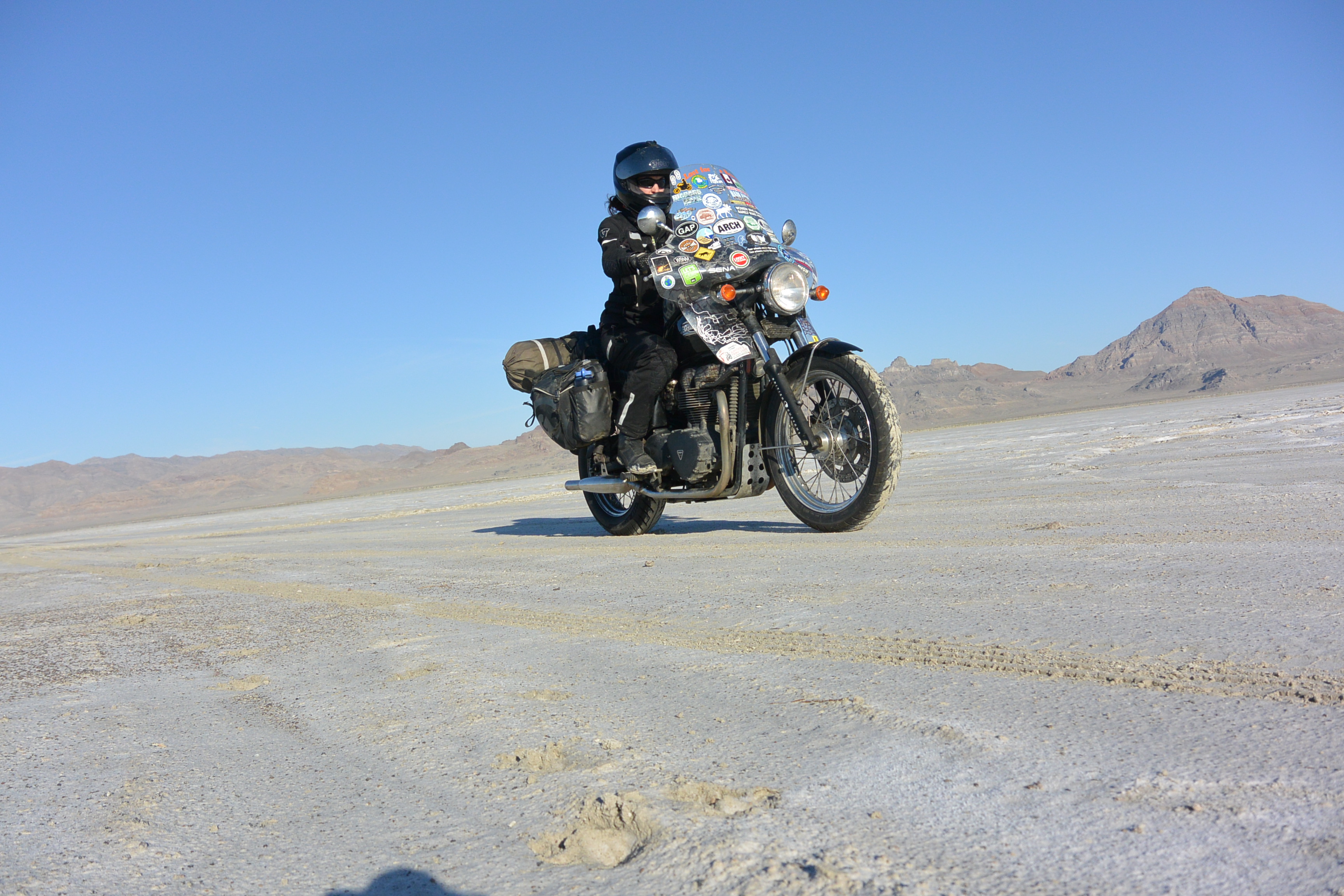 So what is next - It has been a long time coming, and planning started during my last journey, but as with a group / team ride there are a lot more components than with a solo ride. The bikes are just awaiting our last set of batteries and then we will off! I will be departing Arizona the end of July 2016 heading up to Alaska!
I would love to introduce the next journey that I am honored to be the selected female rider for Expedition Electric. We begin in Prudhoe Bay Alaska-August 2016. The Northern most terminus of the Pan-American highway opens to 25,000 miles of excitement for three riders and a film crew who seek to power past the challenges of the road in the name of adventure and advancement in green technology on electric motorcycles.
A team of 3 riders will undertake a challenge that has never been attempted; to travel over 25,000 miles, through 15 countries on custom built green technology electric touring motorcycles. The production crew from Diamondhead Films will capture it all in high definition.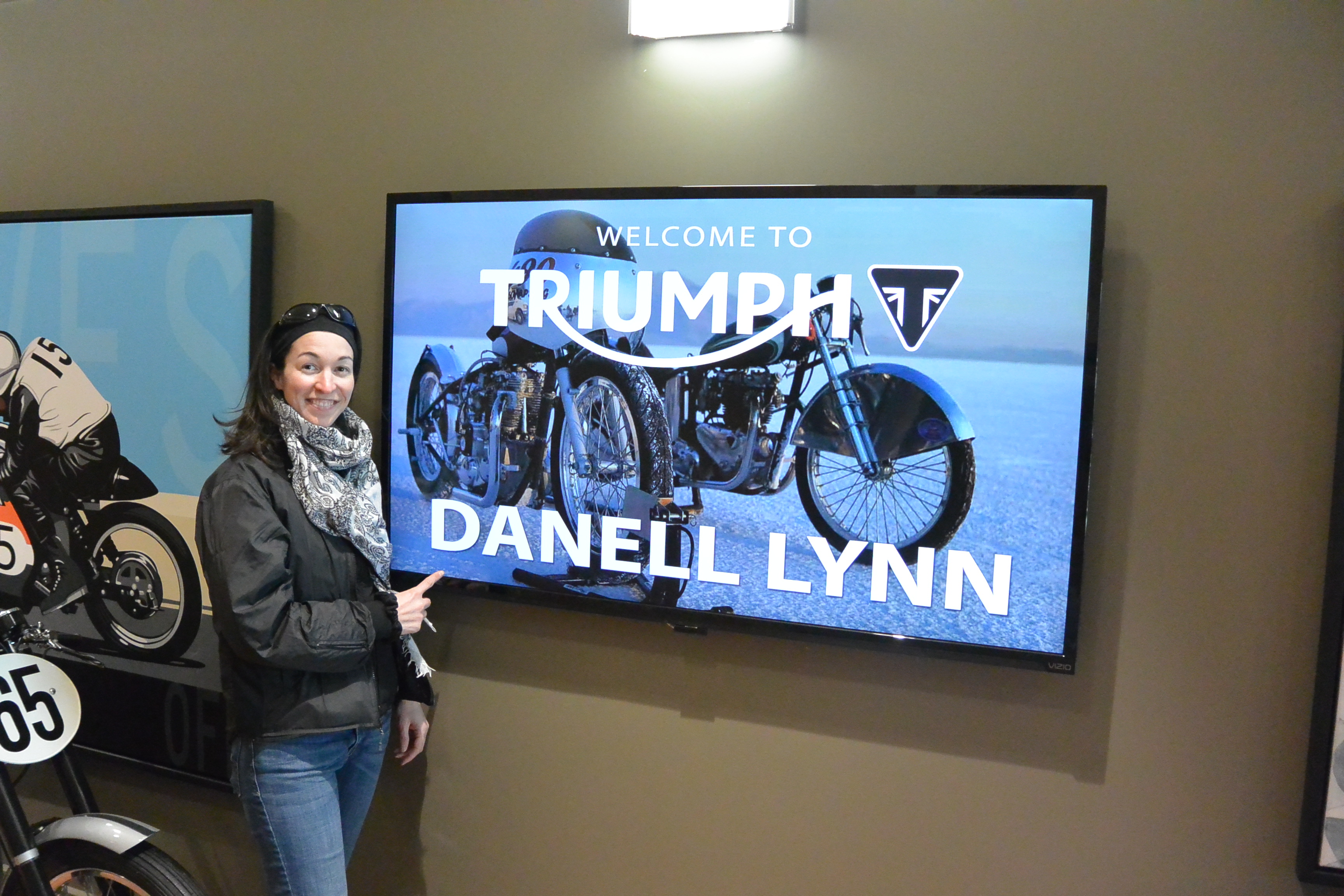 Leaving Prudhoe Bay, Alaska July of 2016 and arriving in Tierra del Fuego, Argentina, this 8-month trip will follow a colorful group of characters as they put themselves and their prototype machines to the ultimate test of endurance in some of the worlds most exciting, beautiful and dangerous locations.
Links: www.DanellLynn.com
Blog of the journey: www.BlackTie2BlackTop.com
Twitter / Instagram: @DanellLynn