Featuring Mr. Heater's Hot Water Shower Systems & How They Work
Authentic camping offers a wealth of experience and memories that simply can't be found in an RV park or some designated, sandwiched campground right off the highway, because the point of being out 'in it' is to truly feel and see, and smell, and taste, and touch the nature of a place. So without that sensory experience, you're left with the same mundane disconnection that has plagued our modern world. But when you're spending an extended amount of time outdoors, you're opening yourself up to a whole world of possibilities, and even though the luxuries of the modern world are likely absent from your experience that doesn't mean you can't make a few adjustments to better your situation.
Our outdoor minded team at Mr. Heater understands the love of nature and how important it is to have tools that not only improve one's survival, but also assists in one's overall enjoyment. While it's important to take a break from the phones and the TVs, not all technology is a detriment to the natural experience outdoors, which is why we created the BaseCamp B.O.S.S. series of outdoor, portable showers. Each of our four units offers a versatility unlike most portable showers on the market, because not only do ours heat the water for you, but they provide an eco-friendly approach to showering outdoors, powered by battery or electricity depending which unit you choose.
For those interested in keeping the pack light and the budget low, Mr. Heater has the perfect option for you. The Basecamp Rechargeable Shower is a rechargeable camping shower that comes with an internal lithium Ion battery, which charges via USB. It comes ready to use with a 6' hose, multiple mounting options and is very portable, light and easy to use, making it a great option for light campers, as well as deep wilderness explorers.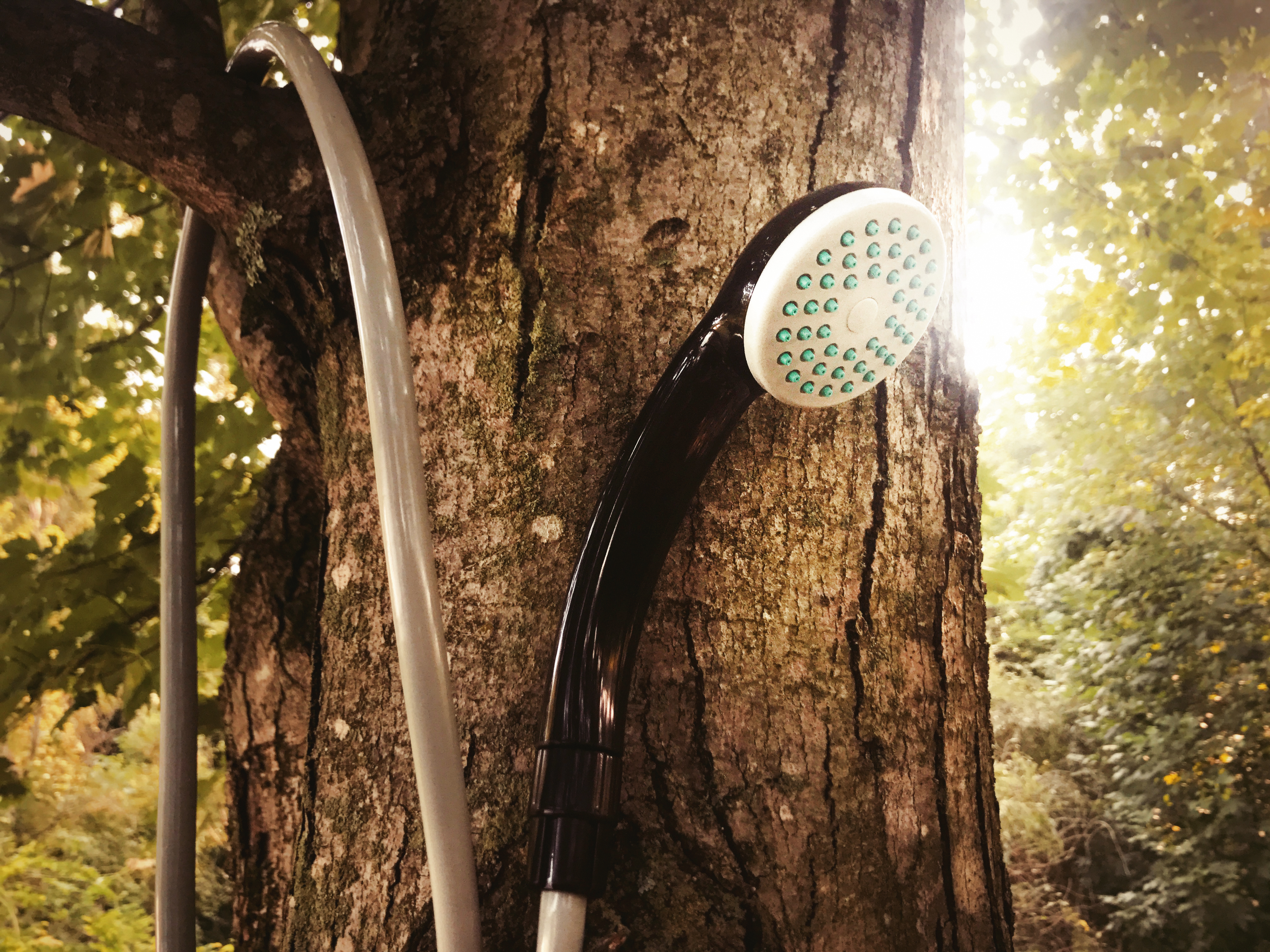 The BaseCamp B.O.S.S. XB13 is the first and only hot water shower system that is powered by D-Cell batteries, which in turn gains the CS safety certification. Simply hookup your water source, a propane cylinder and you have hot water readily available even in the remotest of wild places. It's perfect for backpackers and longterm campers who either wish to shower regularly or to simply clean your dishes with ease. What's so striking about our entry level design is that it's cordless, portable, and relatively light weight, so even if you wish to backpack into the wilderness for awhile before setting up camp, you're not overburdening yourself.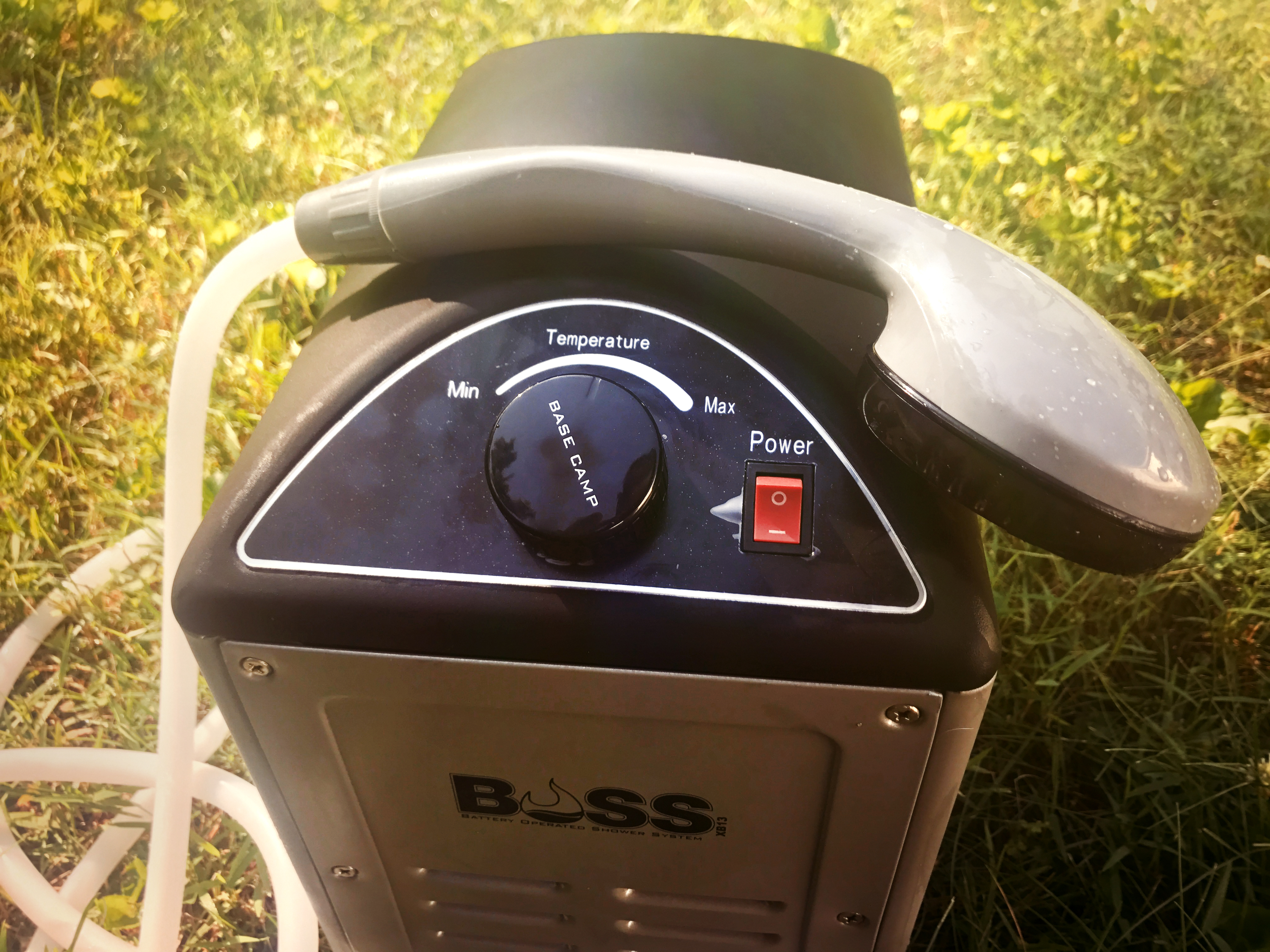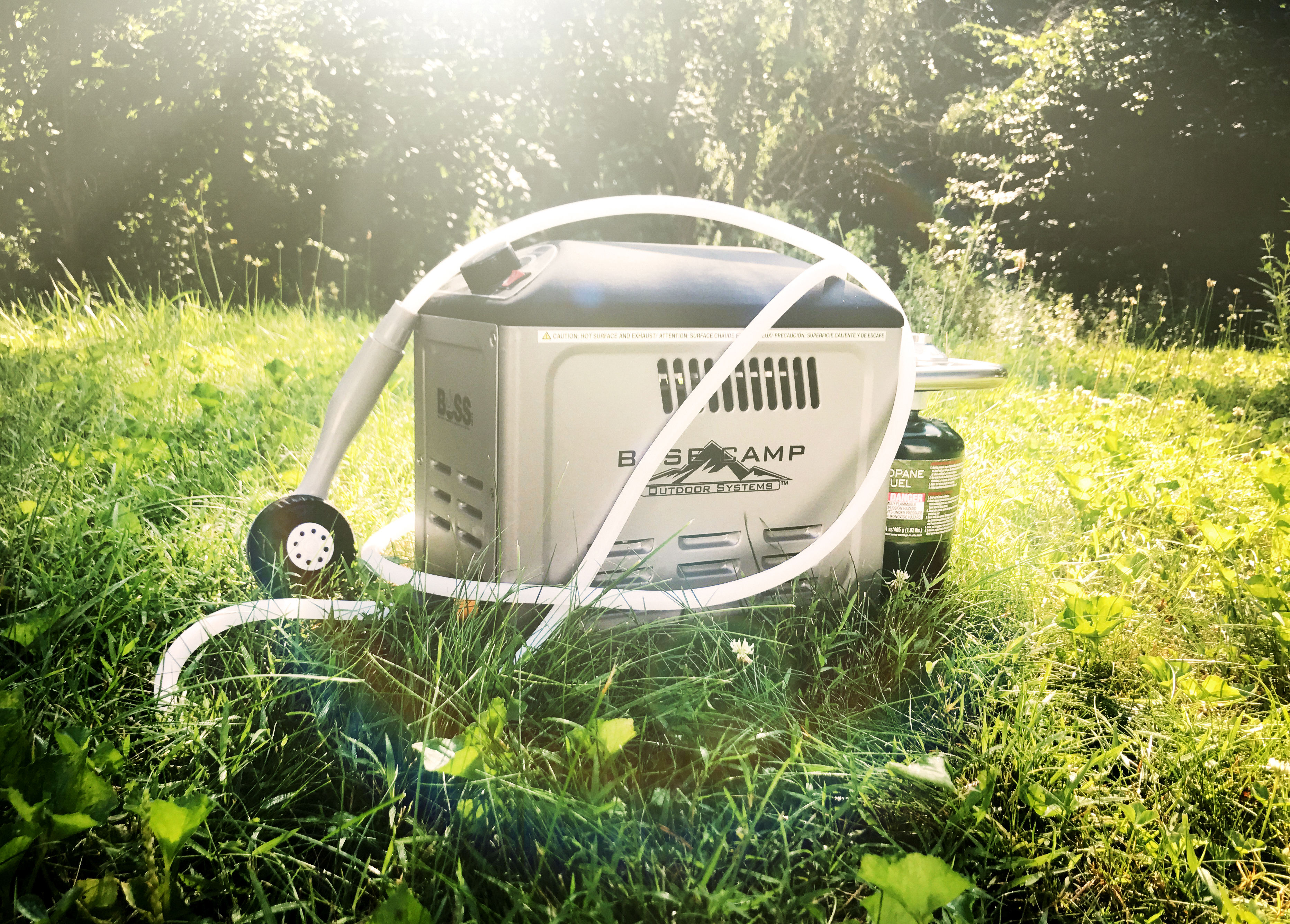 The XB13 is made strong with a metal housing that is durable and built to last. It's matchless electronic pulse ignition provides a reliable and safe option, so that when you need it, you're only moments away from hot water. Each unit has a built-in scald protection, tip switch and flow driven ignition. Plus, it's simple to work the XB13, as all you have to do is insert your D-Cell batteries into the included power pack, hook up your hose to a water source, plug in your shower head, then flip the ignition switch, dial the temperature based on your own preference, and that's it! How cool is that?!
The BaseCamp B.O.S.S. XW18 is similar in size to the XB13, but offers a more powerful and more versatile style set. The XW18 is cordless, portable, and capable of handling all of your hot water needs, from showering or simply cleaning hands, or dishes, or whatever you get dirty out in the bush. With the XW18, you have the capability of using an internal battery source that comes included with this system that can be charged with an AC adaptor, essentially eliminating the need for D-Cell batteries and overall saving yourself on weight. Operating this unit is even simpler than our entry level model, as once the battery is charged, you don't have to worry about power anymore, so all you have to do is hookup your tube to a water source, flip the ignition with and dial the temperature to how you like it and a great shower experience begins.
The model we're most proud of is also the most advanced portable hot water generator in the world. Our BaseCamp B.O.S.S. XCW20 is a beast of a unit that specializes in providing a steady stream of hot water for all of your shower needs, especially when it comes to cleaning dirty dishes, as there is a special faucet outlet so that yo can direct the water from the shower head to the attached faucet, which helps tremendously when cleaning anything other than one's own body. This is the perfect unit for longterm campers, explorers, and even those who choose to live a simpler life being one with nature.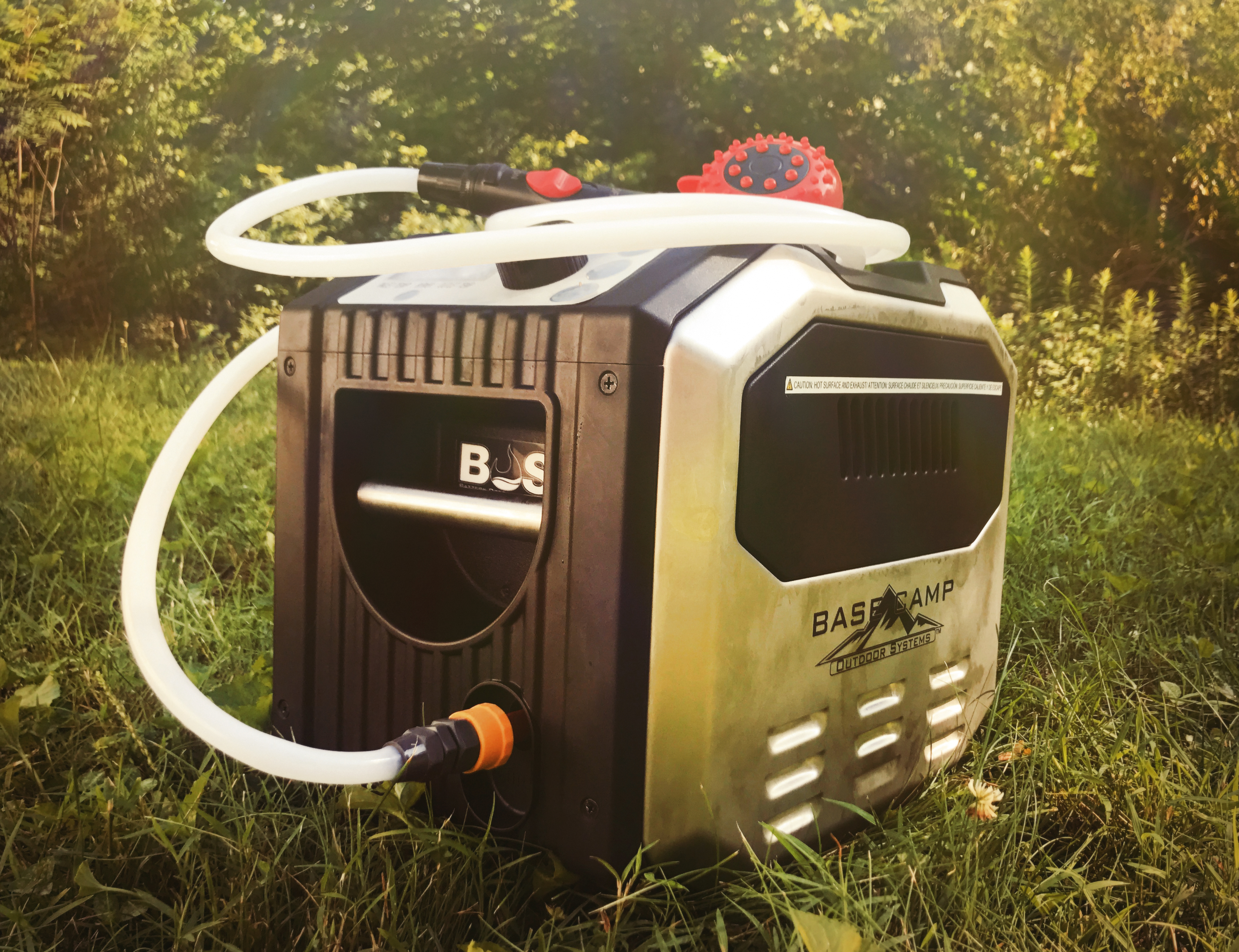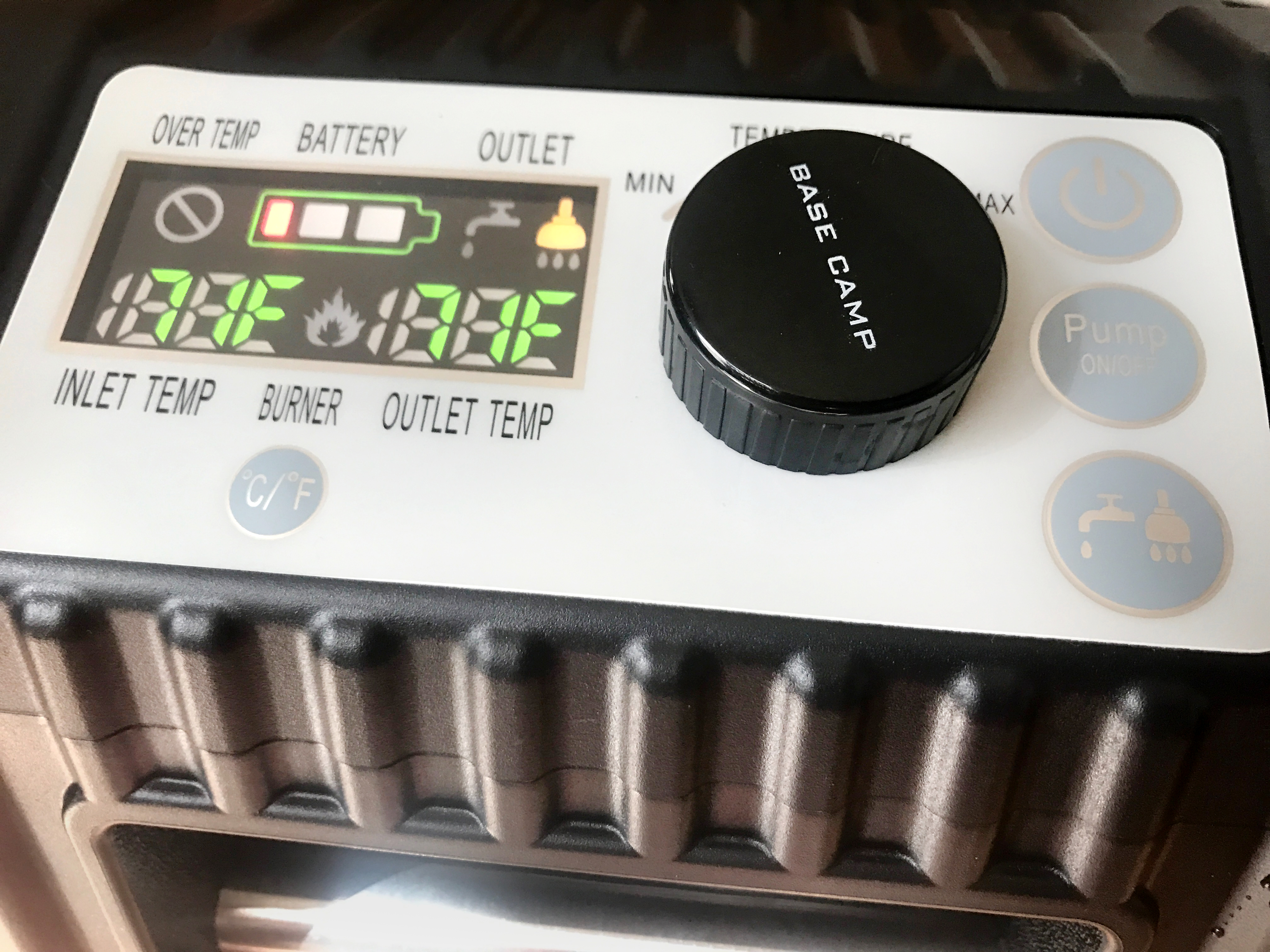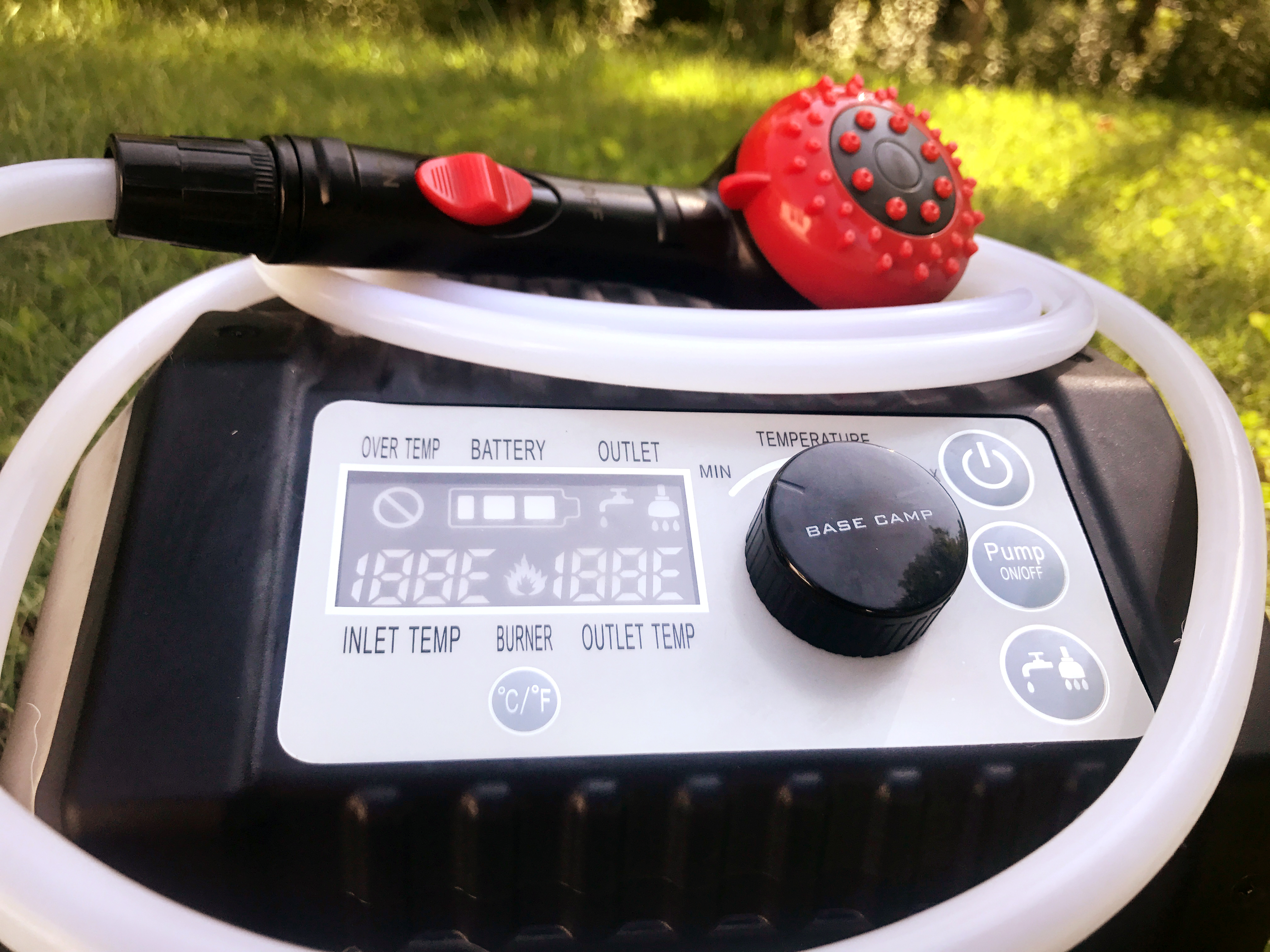 The BaseCamp XCW20 has a powerful internal battery that can be charged by using the included AC adapter or DC cigarette lighter. As with the previous models, to get started, hook up the hose to a bucket of water or another alternative water source, plug in your shower head, attach your propane cylinder, then just press the ignition button and dial in your temperature for a powerful heated shower experience. What's also unique about the XCW20 is that it comes incorporated with a fantastic digital settings interface that indicates battery level and lets you control the temperature and water flow, either between the shower head or the attached metal faucet. The XCW20 has a matchless electronic pulse ignition with similar safety features as the prior models like that of the scald protection, tip switch and flow driven ignition. All units are certified for use in the USA and in Canada.
Feature and Photos by © Brandon Elijah Scott / www.EyeAndPen.com