Squeeze Play Lakers Put mid-to late-winter lake trout on ice with these timely tips!
Unlike other species of gamefish that may develop a case of the midwinter blues and play hard to catch this time of year, lake trout remain on the hunt throughout the winter. Plus, due to seasonal changes in the underwater world, the fish are squeezed into a smaller slice of the water column, making this one of the best times of the year to put these hard-fighting salmonids on ice.
"Lake trout actively hunt down baitfish throughout the mid- to late-winter period," says veteran fishing guide Bernie Keefe of Granby, Colorado. "So they're catchable when you put a lure in front of them. Often, the biggest challenge is finding the fish, which often roam massive main-lake basins."
Thankfully, anglers have an unlikely ally that pushes lakers into predictable places. "As winter progresses, oxygen depletion in the depths steadily forces trout up and away from the bottom, restricting them to an ever-narrowing band of the water column," Keefe says.
Oxygen depletion in deep water is a normal occurrence in many lakes, triggered by factors including a reduction in light penetration and photosynthesis by aquatic plants, along with the natural breakdown of organic matter on the bottom of the lake.
"Low levels of dissolved oxygen in deep water drive trout and baitfish toward the surface," says Keefe. "Lake trout typically suspend over the deepest basins in the lake. It's not uncommon to see them 60 or 70 feet down in 120 to 200 feet of water."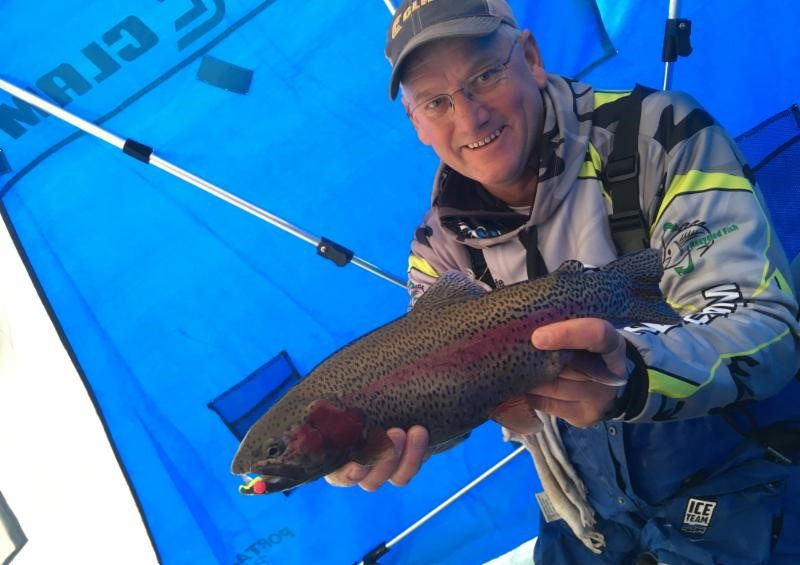 While ice anglers seeking hookups with panfish, pike or walleyes often look for fish on sonar before dropping their wares into the water, Keefe advises against such tactics for lake trout.
"The trout are moving, so your chances of intercepting them with sonar are slim," he says. "Instead, drill you holes and prepare to jig 20 to 30 minutes in a spot to bring the fish to you. Once the fish find you, however, they tend to come in droves, so it's worth the wait and the effort."
To call trout in and make them strike, he favors soft-plastics like a Johnson Swimming Paddletail, Berkley Power Minnow or Berkley Jerk Shad rigged on a ¼- to 3/8-ounce leadhead jig. "Hair jigs and Clam Leech Flutter Spoons in the same weight range are good choices, too," he says. "White is a great color for lake trout, because it stands out in the water column. Natural-colored plastics have their moments as well, particularly when fished with a pink or orange jig head."
Keefe fishes these baits on a 36-inch, medium-heavy Dave Genz quick-grip handle ice rod from Clam Outdoors, spooled with 8-pound Trilene 100 Percent Fluorocarbon line, tied directly to the lure.
The attraction phase of Keefe's jigging program includes dropping the lure 60 or 70 feet down, then slowly reeling it back up to the ice. He interrupts the drop-and-retrieve with occasional pauses, during which he alternately shakes, jigs and rests the bait. "Subtle is the key with all your moves," he cautions.
While jigging, Keefe keeps a keen eye on his Lowrance sonar unit. "When trout move in for a closer look, you need to figure out if they want the lure shaken, dead-sticked or reeled away from them," he says. "If you can get them to chase, you're in for the funnest bite of them all."
If you're not using two rods for lakers but can legally fish two lines, Keefe recommends using your second line to dangle a daintier presentation just below the icepack.
"A tiny tungsten jig tipped with a Maki plastic, or a 1/32-ounce leadhead and Berkley Power Nymph combo, dead-sticked a foot under the ice, will produce a random mix of high-riding browns, rainbows and lakers," he says. "Just make sure your rod is secured to something, or a big trout might take it away from you."
Keefe notes that this mid- to late-winter pattern is more about numbers than targeting giant fish, however. "This isn't trophy hunting," he says. "It's about catching a lot of fish and having fun. A pair of anglers who get on the fish can easily catch and release 50 to 60 lake trout a day this way."
That being said, trophy trout aren't out of the question. "There's still a chance to tangle with a monster," Keefe promises, adding yet another reason for savvy trout fans to get out on the ice and take advantage of the late-winter squeeze play.