Indianapolis, Indiana - June 2011
Do It Best presented Mr. Heater the Members Choice Award for their Hero Heater. The award was given to Mr. Heater at the 2011 Do It Best May Market. The Hero was selected for ground-breaking innovation and design. It is the world's first cordless forced air heater with "QBT" or Quiet Burner Technology, delivering 50% less noise than traditional heaters in this category.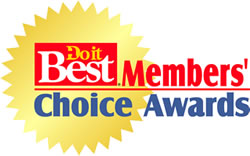 Headquartered in Cleveland, Ohio, Mr. Heater Inc., a subsidiary of Enerco Group, Inc., is a leading manufacturer of gas-fired portable heating products, propane hose connections, fittings and accessories. For more information about Mr. Heater's full range of heating products, please contactCustomer Service at 800-251-0001 or visit www.mrheater.com.