Now's the time to start getting your Ice gear ready for the upcoming ice fishing season.
First thing I do is peel the line off all my reels and add new line. I will also check the guides on my rods for nicks or any damage that might have happened last year that might damage the line during your upcoming season's fish battles.
The line I use is Clam's frost metered mono in 2,3,4lb test for panfish and 5-6lb for Walleyes. The metered line works well for detecting bites and seeing the line
for retying.
Checking you jig box to see what you lost and need to replace from last year. I also take the time now and clean out the paint out of the eyes on my jigs.
Easier now when its warm out and it will give you more fishing time this winter because you are not taking the time to clean out the eyes it when you can be fishing. A few of my go to spoons and jigs are a #10 Red Glow Drop Kick paired with a Maki White Red Flake. My favorite Walleye or Lake trout spoon is the Gold with Red dots 1/4oz Leech flutter spoon.
Check your fish house out and make sure your poles are in working order and not missing any nuts or bolts and fabric doesn't have any holes from the critters over the summer.
Auger is next on the list check the blades for damage (I replace mine multiple times a year) sharp blades gives you more battery life and holes.
Charge your batteries on the electrics drills and sonar.
Turn your sonar units on and make sure and check your transducer for nicks in cord and that you are getting the snapping sound out of it.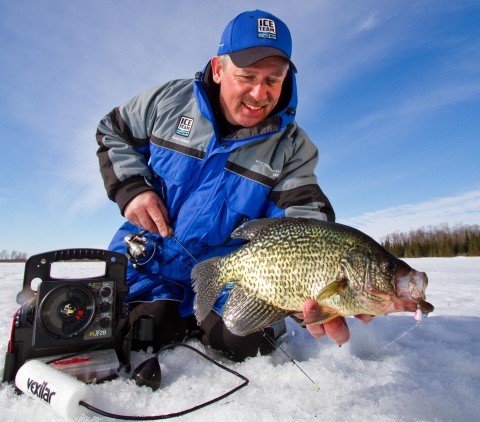 Fire up your Mr. Heater and make sure they are working properly. One thing I do to my heater before starting it up is run a Q tip dip in rubbing alcohol in the pilot flame and make sure the spiders didn't clog it. For all your maintenance tips on your Mr. Heaters go to mrheater.com and watch the videos on proper maintenance of your heaters.
Fire up the ATV or snowmobiles get them in for service if needed.

Bottom line: NOW is the time to get as much of your equipment ready before the season starts and beat the rush if you need to get something repaired.