Fall Crappie Fishing
By Tim Moore
Cooling water temps have triggered crappie and other panfish to move out of the shallows and school up over deep basins in ponds and smaller lakes. For some anglers, myself included, October is the most productive month of the year to fish for black crappie. Add ultra-light gear to the equation and you'll not only catch a lot of fish, but you will have a boat load (pun intended) of fun as well.
The first task is to locate deep basins. This is where lake maps and charts come in handy. In this age of smart phones there are a myriad of lake map apps to choose from. I use the Navionics app; it not only gives very detailed information about the contours of almost any lake or pond, it will also show your location on the chart. No more lining up objects on shorelines to find the honey hole. Just remember to close the app once you get where you are going or the GPS function will drain your battery in about an hour.
The term "deep" is relative because basin depths vary from lake to lake. In many cases it simply means the deepest section of a lake or pond. Some water bodies that hold crappie have very distinct basins that are 20, 30, and even 40 feet deep; these are usually great places to fish. Once you figure out where the basins are and which one you want to fish, head for the upwind side of it and begin your drift. Kayaks make the ultimate attack vessels because of their stealth and low profile. Being low to the water means they catch less wind and therefore drift more slowly.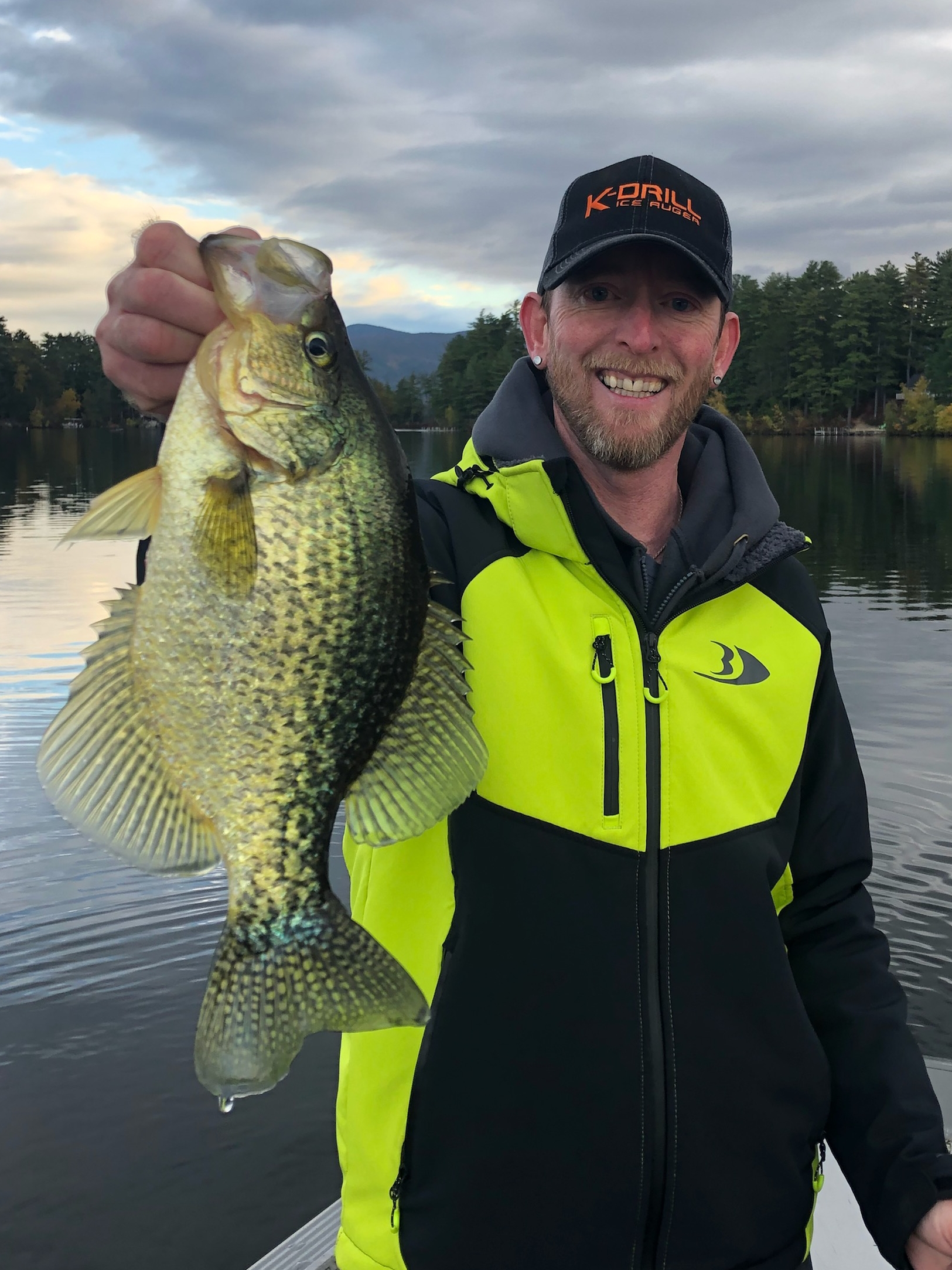 Electronics, such as a Vexilar sonar flasher, give you a huge leg up when fishing for suspended deep-basin panfish, because they show the depth of the fish in real time. If you don't have electronics, don't worry, you will still catch fish. Luckily, once you figure out where fish are suspended, you will usually catch fish at that same depth until there is another significant change in water temperature or quality.
If you ice fish for crappie then you probably already have a lot of the necessary tackle. Small 12mm tungsten jigs with soft plastics, such as the Maki or Jamei from Maki Plastic, work great. The Live baby Shad by Lake Fork Trophy Lures and size 3 Salmo Chubby Darter are a couple of my favorites. Vary your jigging cadence until you find a particular pattern that works well. When choosing a lure color, match the existing light conditions: bright day = bright colors, dark days = dark colors. When all else fails, you can't go wrong with a Swedish Pimple tipped with a bit of garden hackle.
These are some of the most widely used techniques across the country to catch fall crappie. If you like crappie fishing then the fall bite is not to be missed. It has already begun and should improve throughout the month. Early morning bites will usually be better with fish often coming one after another. With a little time and effort you can catch a meal's worth of tasty fillets in no time and still have time left to climb into your tree stand for the afternoon hunt if you wish. Be mindful of your state's regulations as bag limits and lead bans vary from state to state. As always, be good to the environment and clean up after yourself.
Tim Moore is a full-time professional fishing guide in New Hampshire. He owns and operates Tim Moore Outdoors, LLC. He is a member of the New England Outdoors Writers Association and the producer of Tim Moore Outdoors TV. Visit www.TimMooreOutdoors.com for more information.