By Scott Seibert and Shelly Holland
For the past few years we've been going up to Vic & Dots on beautiful white fish bay in Ontario Canada. And by far, our favorite ice fishing trip of the year. It's so satisfying to have at least one epic Ice Fishing trip planed for the season. It's well worth battling the elements that Winter throws at us on trips like this. On top of that the scenery is spectacular! our Bearcats worked excellent for the Extreme snow and slush we encountered the last time we went. This is the kind a trip where your gear definitely matters. You don't want to forget the little things like the Clam snow shovel, and a tow strap. Being over prepared is better than under prepared in a place where you might not see any other anglers all day! Perhaps that's why the fishing is so good there!

Our target fish was lake trout, seeking that 30 Plus inch laker, with huge pike hitting our lures occasionally. Hooking up on one of these is an unbelievable battle that leaves your rod bent and arm exhausted from the amount of time it takes to get them through the ice. And if the timing is right they are plentiful. The type of rod depends on if they're biting light or aggressive. For an aggressive bite we prefer to use a Ice team professional series 36 inch paired with a predator Reel, Spoiled up with 10lb mono.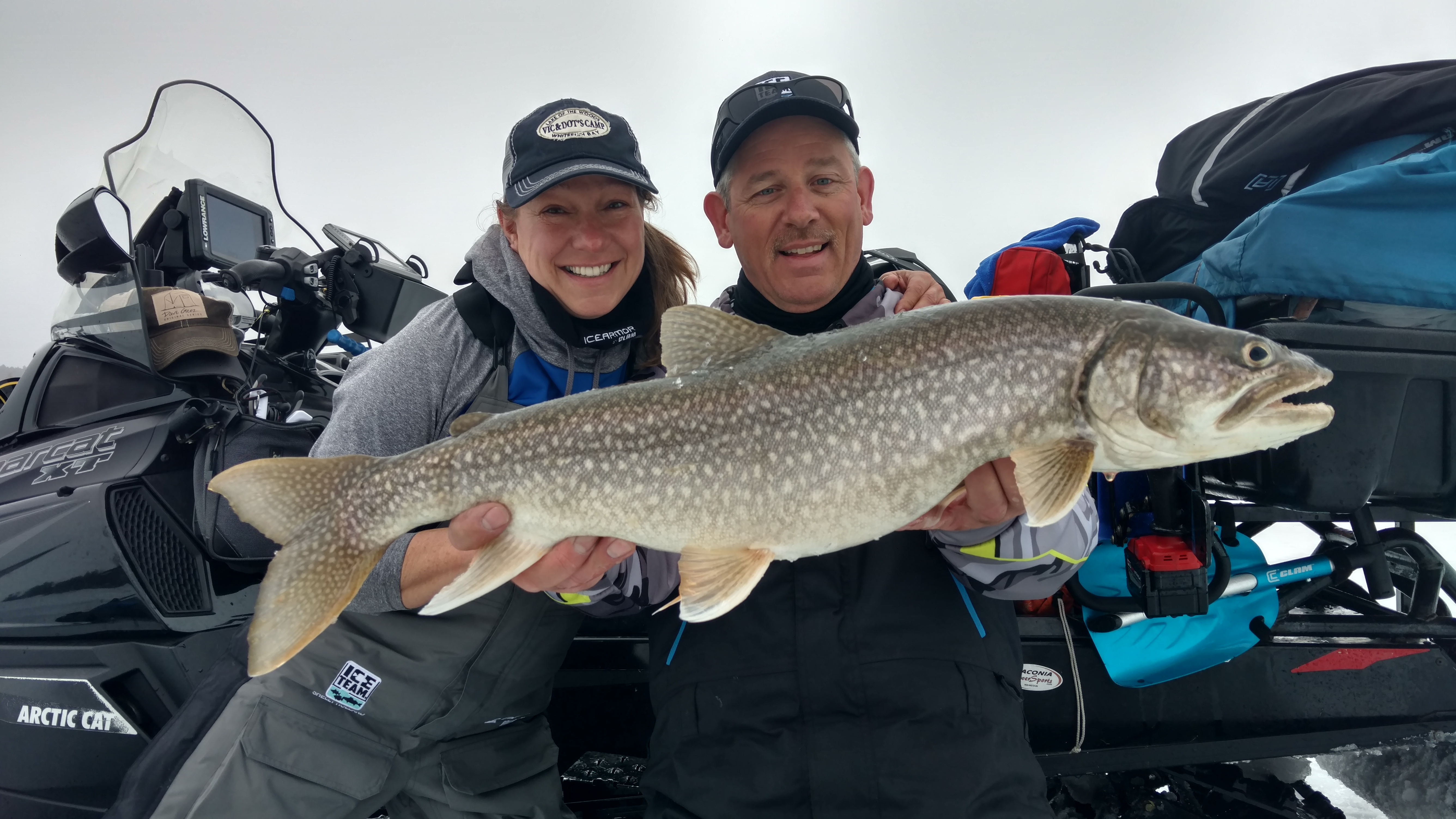 The most productive Lure we used for the aggressive bite was 3/8 ounce gold super leech spoon. When the fish were acting a little finicky and the bite slowed, we down sized everything including the rod. Using a Jason Mitchell 36 inch medium meat stick and switching our bait to a quarter ounce leach flutter spoon. Glow red or gold with red dots seemed to pull up more fish, but honestly they were wracking almost any color. Using the medium action rod seem to help keep the barbless hooks in the fish better.

Fishing these big Lakers up there is almost like a team sport, we all rally around the one with the fish on to witness big lakers being plucked out of the ice! Landing these big fish is as fun as reeling them in.

The area is so vast and beautiful we often give our arms a rest and search for other species, jumbo perch and Slab crappie are just a short snowmobile ride away #10 red dropkick with maki minnow was working well! No live bait needed for this trip. So if you're looking for that epic ice fishing trip of the year where not only beautiful scenery but Multi species fishing and trophy pike and Lakers I would get ahold of Vic & Dots Camp in Ontario Canada.