DEWALT® Model DXH90CFAK and DXH90CFAKM Cordless Kerosene Forced-Air Heaters
The heater can re-start unexpectedly when allowed to run on the thermostat and if not turned off while in standby.  If the heater is moved to a location close to combustibles, or an enclosed or occupied space, the heater may re-start unexpectedly, based on the thermostat setting, and may present a fire and/or carbon monoxide hazard.
Only Model DXH90CFAK heaters with serial numbers 340902-20001001 to 340902-20004000 and Model DXH90CFAKM heaters with serial numbers 340901-20001001 to 340901-20001500 are affected by this recall.
If your heater is affected, STOP USING IT IMMEDIATELY, and call Enerco Group toll free
1-800-964-4328
between 8 a.m. and 5 p.m., Eastern Time, Monday through Friday or fill-out the form below to obtain a free replacement corded heater.
The model number and serial number are located on the side panel opposite the controls.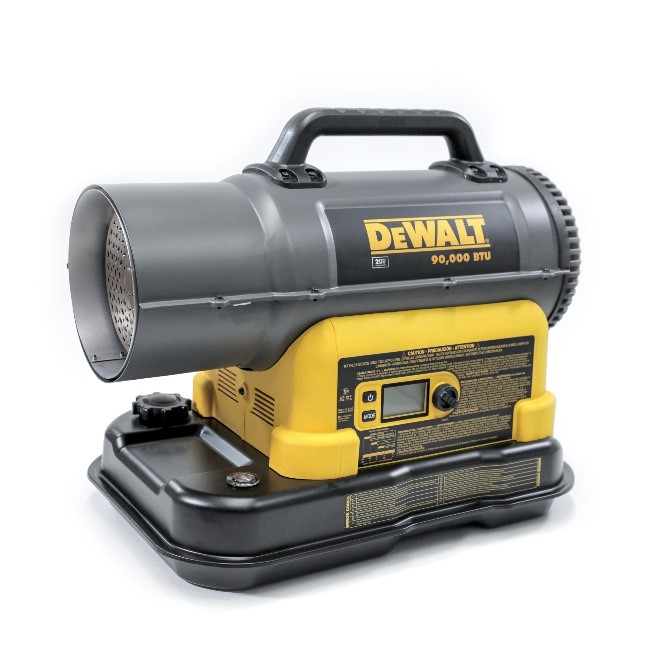 Click the link below to download the information on this page.
If you would like, you may fill-out the form below and you will be contacted by our Technical or Customer Service team to complete your return and exchange. Do not ship back your product until you have been contacted. And please be sure that the unit is free of fuel before shipping.
Recall done in cooperation with U.S. Consumer Product Safety Commission - to be posted until June 3, 2021